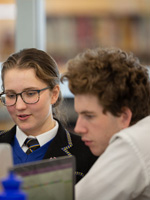 Group 2 - Language Acquisition (Language B and Language ab initio)
Description
The Language B program is a foreign language learning program for students who have previous experience of learning the language. Language ab initio is a foreign language program for students with no previous experience of learning the target language; it is a course for beginners. The emphasis in Language B courses is on communicative skills in speech and writing and understanding the culture of that language.
Aims
Group 2 consists of three language levels (ab initio, Standard Level, Higher Level) accommodating the different levels of linguistic proficiency that students have when they begin. There is a single set of Group 2 aims, which are common to all the levels, but the assessment objectives are differentiated according to what the students are expected to be able to demonstrate at the end of each course.
The aims of Group 2 are to:
Develop students' international-mindedness.
Enable students to communicate in a range of contexts and for a variety of purposes.
Encourage, through the study of texts and through social interaction, an awareness and appreciation of a variety of perspectives of people from diverse cultures.
Develop students' understanding of the relationship between the languages and cultures with which they are familiar.
Develop students' awareness of the role of language in relation to other areas of knowledge.
Provide students, through language learning and the process of inquiry, with opportunities for intellectual engagement and the development of critical- and creative-thinking skills.
Provide students with a basis for further study, work and leisure through the use of an additional language.
Foster curiosity, creativity and a lifelong enjoyment of language learning.
Links
Language B

IB Chinese B
IB English B
IB French B
IB German B (In 2017 German was removed from our Year 7 offerings. Students will not be able to enrol in Year 11 German after 2020.) ​
IB Indonesian B

Language ab Initio

IB Spanish ab initio

Other languages

May be offered externally or on a tutorial basis for an additional fee